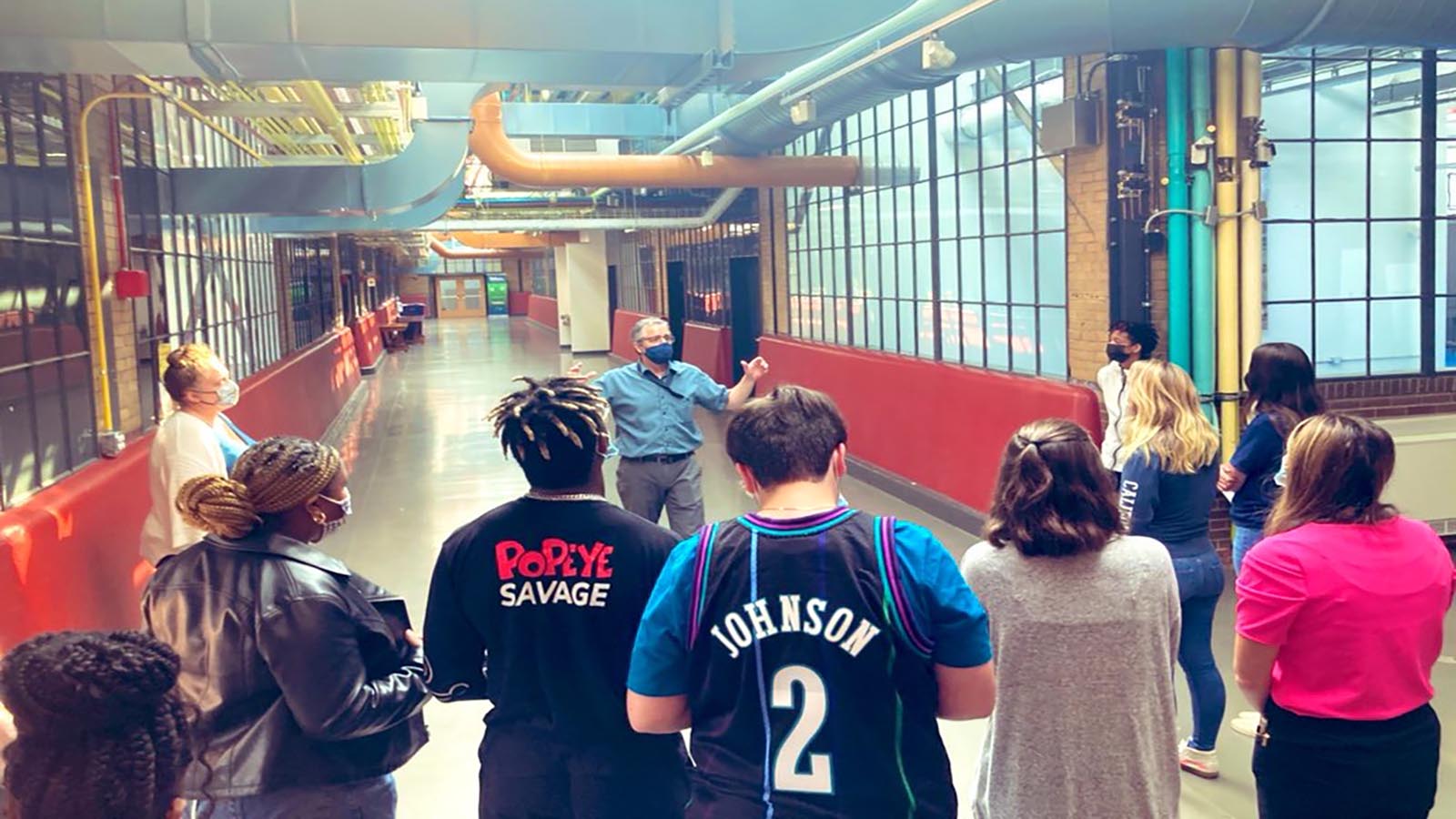 Week five of our Summer Program focused on entrepreneurship, and learners explored a wide variety of career and entrepreneurship opportunities and experienced first-hand the importance of diverse networks when expanding their future career and personal pathways.
Tony Roberson, a stand-up comedian and DJ who also runs his own entertainment/media company, talked to the learners about the importance of determination and perseverance and shared his go-to saying with students: "Do today what others won't, so you will have tomorrow what others don't."
His advice sparked a discussion about investing in ourselves and using our time to drive future progress. He shared that he is constantly seeking out new streams of income, as life can change quickly and it's important to be able to adapt to these changes and be able to support yourself and those who depend on you.
In the afternoons, students were joined by Chef Claudy Pierre and members of the Eminent Hospitality/E.A.T. Initiative team for a tour of the kitchen and a workshop on entrepreneurship. The entrepreneurship sessions were led by Naomi Ritter, founder and CEO of The Finesse Institute and former Penn State CITY program manager, and Ruth, a graduate of the Penn State CITY program. During the workshops, students were tasked with coming up with their own idea for a business that they would want to start and worked through some of the details of the business. From there, the students gave informal presentations about their businesses to the rest of the group, who provided feedback and asked questions. Using this feedback, students worked on developing 60-second elevator speeches about their businesses that they can use to pitch their business to friends, family, and even potential investors.
In addition, Tom Bartnik, the director of the Penn State Center Pittsburgh, joined learners and led a discussion about the history of the Bedford/Crawford area — where the Energy Innovation Center (EIC) is located — and the history of the EIC and its transformation from the Connelley Trade School into a LEED Platinum Certified beacon for clean, efficient, and sustainable energy solutions and technologies.
He talked to the students about that process and the financial and environmental benefits of renovating and reimagining existing buildings rather than knocking them down and starting from scratch. The tour also included information on historic landmarks, what it takes to secure funding, and the importance of preserving historic buildings.
Students visited Penn State Beaver, where Daniel Pinchot, director of enrollment management, and Justin Vorbach, associate director of enrollment management, talked to them about the admissions process, including requirements for the different Penn State campuses. In the afternoon, students participated in team building exercises, learned about the process for developing SMART goals, and talked about the skills that are essential for success in college, such as perseverance, commitment, and determination.
"I liked touring and hearing different people talk about how college could be. It scared me a little because I have to apply soon, but I also think touring all these places is really helping," said Sara S., a Summer Program participant.
Students continued their human-centered design challenges by learning about the term "stakeholder" and what it means for someone to be a stakeholder. From there, participants researched stakeholders in Allegheny County who are working to address the specific topic that the groups are focusing on for the challenge and then completed a stakeholder map.
At the beginning of the week, entrepreneurship was something that students had never considered as a potential career path because they thought that it would be too difficult to attain. Now, at the end of the week, students have a better understanding of the steps that it takes to get started, and they feel more comfortable and confident trying things out on their own!
View photos from week five and stay tuned for week six's activities.