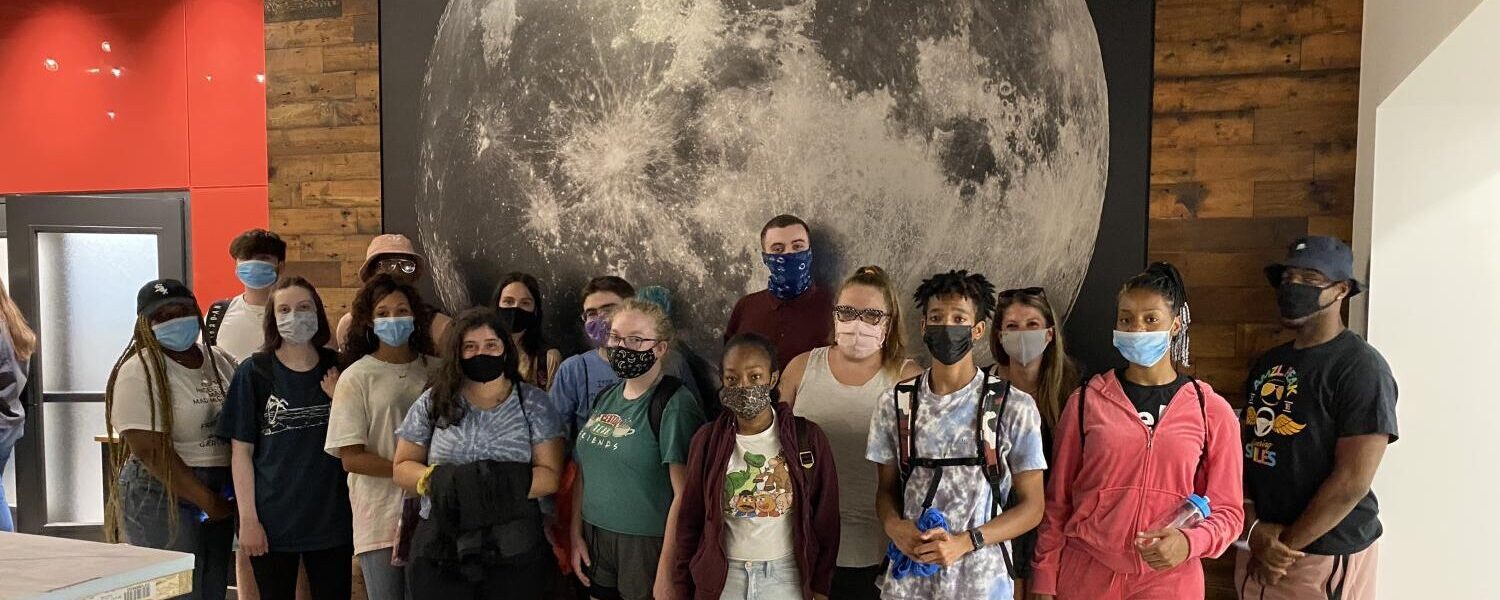 PITTSBURGH — Forty-five high school seniors from 22 Allegheny County high schools, and more than 30 education, industry, and community collaborators, became one team as the Readiness Institute (RI) at Penn State launched its inaugural Summer Program at the Penn State Center Pittsburgh. Several of the students who completed the Summer Program have now been accepted to move on to participate in the Mark Cuban Foundation AI Bootcamp, which also will be hosted for the Pittsburgh region by the RI at Penn State.
Cassandra Gray is one of those students. She said she wants to major in computer science/computer engineering and immediately jumped on the opportunity to apply for the Mark Cuban Foundation AI Bootcamp after her experience in the first-of-its-kind summer program in western Pennsylvania.
"As much as it scared me at first, I really liked that we were in groups with a diverse population of people that we didn't know," Gray said. "Getting to know more about each individual and their background showed me how similar, but different, we all are."
The six-week program curriculum, built by the RI at Penn State team and a volunteer panel of program advisers, was designed to give learners like Gray the opportunity to explore future career paths and stewardship opportunities, build communication skills, establish best practices to challenge intolerance, enhance digital literacy skills, develop positive financial habits, and match aspiration to opportunities. The RI at Penn State News page features a week-by-week, share-out of Summer Program activities.
The Summer Program is supported by funding from The Heinz Endowments. Each student received a Chromebook laptop to use while enrolled in the program, along with a $2,000 stipend.
Justin Aglio, senior director of the Readiness Institute at Penn State, said the Summer Program is a student-centric experience.
"The RI at Penn State Summer Program was designed as a test-solution program that creates actionable results with pragmatic and real-world solutions," Aglio said. "The learners were placed at the center of the program. Equity was intentionally embedded in every aspect of the program by providing stipends and diversity within the cohorts."
Tamara Johnson is one of nine instructors hired for the RI at Penn State Summer Program. She said the essence of the program was its ability to not only educate, but to give learners an immersive experience outside of their comfort zones, to look at other lifestyles, mindsets and life paths. An experience that can serve them for a lifetime, regardless of the path they choose in the future.
"Their ability to imagine themselves in other peoples' situations and practice empathy without value judgments is essential," Johnson said. "Modern American education has been very focused on STEM/STEAM curriculum, but with it can come an accidental loss of soft skills. We're supporting both and hoping to change the world."
Gray said she will take the skills she learned this summer with her into her next endeavor.
"This program helped me to come out of my shell, form new friendships, and create a network of professionals that inspire me with their own stories about overcoming obstacles — despite the odds," Gray said. "I was going throughout my learning journey not knowing the necessities of making success happen, so I am grateful for the knowledge I have gained through this experience. The instructors and speakers have helped me to create a clear idea of what I want my future to look like, and the journey toward success has become an exciting one!"
Learn more about other initiatives offered by the RI at Penn State, including the Mark Cuban Foundation AI Bootcamp and the Hope Moonshot by visiting the programs page of the website.
The RI at Penn State and the Penn State Center Pittsburgh are units within Penn State Outreach and are both located in the Energy Innovation Center. The EIC is a Pittsburgh-based, nonprofit organization on Bedford Avenue, with a mission focused on sustainability and workforce development.