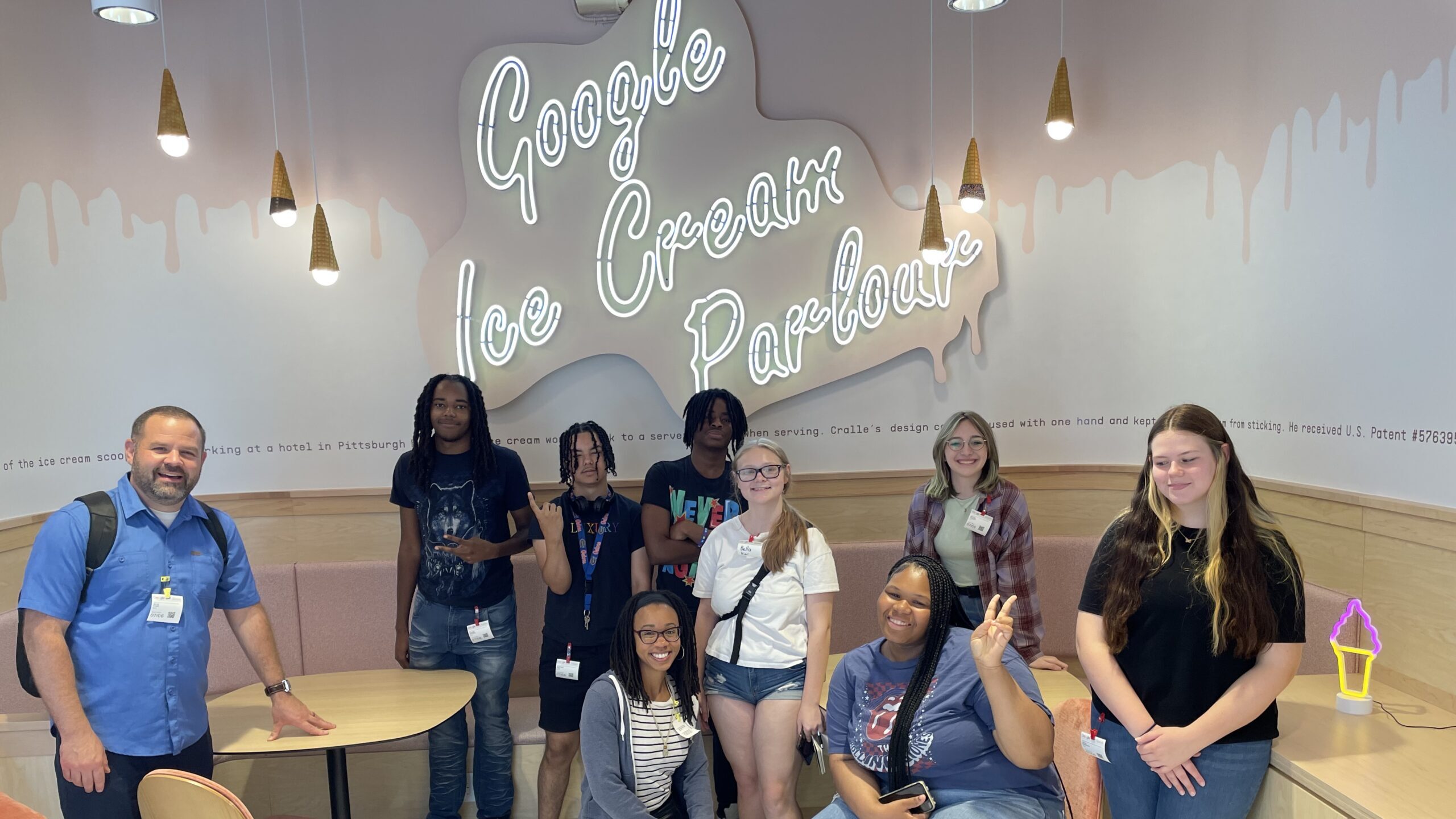 Summer Program learners came back ready to learn and lead in week two. The Pittsburgh cohorts focused on digital transformation, while Central PA learners explored social-emotional learning — two topics with a growing significance in our world today. Speakers, workshops, and site visits this week all emphasized the importance of being informed and knowledgeable about using new technology responsibly for the well-being of ourselves, our community, and our society.
On-Site Activities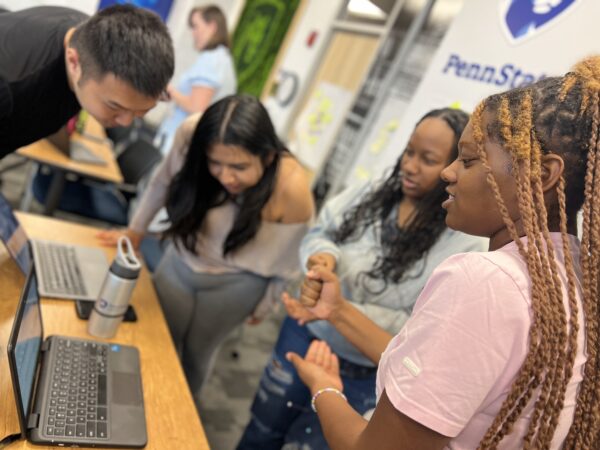 Mike Zula, educational program manager at the Partnership to Advance Responsible Technology (PART), joined learners as this week's keynote speaker on-site in Pittsburgh and virtually in Central Pennsylvania. He talked about Pittsburgh innovations and emerging technologies in the region and how tech will impact all our lives in the future. Zula also shared his personal pathway and lessons for success, leaving learners with three key pieces of advice: stay aware of the world around you through TV, news, social media, etc.; there will always be time to make more money; and talk to as many people as you can to form meaningful relationships.
In the afternoon, learners in the Pittsburgh classroom focused on digital transformation during a workshop with Dr. Jordan Mroziak and Haotian Fang from ReadyAI. The workshop introduced students to artificial intelligence and machine learning and how it is being used in their everyday lives — like movie and music streaming services, Alexa and Siri, smartphone features, social media, and more. The group also got to do a few interactive activities using some trending tools like ChatGPT and Teachable Machine. One of the activities directed learners to write a short summary about a topic by either using ChatGPT or writing it themselves, then the rest of the group had to guess which one it was. It wasn't as easy as you might think!
In Central PA, the group worked with Erica Pattillo from TEAMology on social-emotional learning — the same workshop Pittsburgh cohorts had last week. They started off the session by picking a word that described them and creating a poster to express that descriptor. The conversation then dove into mental health, mental illness, and mental fitness — a topic that is becoming more relevant and crucial across all generations and locations. Learners then worked together to propose tangible and attainable solutions to address the youth mental health crisis in their communities.
This week was also the kick-off of the Community Design Challenge for all learners. The project leverages human-centered design and focuses on the United Nations Sustainable Development Goals. Learners started by reading and reflecting on the article "24 Goals to Save the Planet (+1 in Case We Don't)" from Getting Smart, then split into groups to dig deeper into the goals using radar diagramming and voting. Each group then selected their top goal to work on all summer — no poverty, climate action, zero hunger, reduced inequalities, etc. They will spend time each week researching challenges, identifying stakeholders, and proposing solutions, which they will present on the last day of the Summer Program.
Off-Site Visits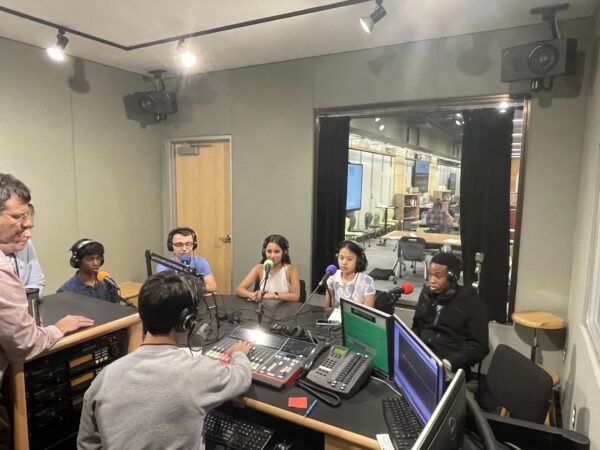 In Pittsburgh, learners explored technology even more during their field trip days. In the morning, the group visited Saturday Light Brigade (SLB Radio) and met with Executive Director Larry Berger and his team. Learners toured the facility, checked out audio equipment, and got a personal look into how the media industry works. They even got to record their own podcast!
"We came up with the show "Reality or Not" where we tell 3 "true crime" stories in the format of 2 truths and a lie where the viewers try to guess the fake story." — Christiana
"My group podcast was about potatoes. We talked about if we like baked potatoes, what kind of fries we like, and do we like pierogi. This was a great topic to talk about because everyone likes potatoes." — Ty
"I learned the necessity of doing things you have never tried before. I was never interested in making a podcast, but after trying it, I want to go back and make many more. You never know what type of opportunities you might encounter on a journey; you never know what may exist." — Rithwik
Learners traveled to Google's Bakery Square office in the afternoon for a tour of the interactive office and conversation with employees. Though many in the group did not even know Google had a location in Pittsburgh (or that Pittsburgh is a growing hub in technology), some decided that they could potentially have a place in the tech industry. Learners also heard from employees about the importance of the company's flexible and comfortable workspace.
"The entire vibe of that tour was a 10/10." — Aneiah
"It made me consider NEVER getting a job at Google, not due to any negative feelings toward the experience, but due to the amount of freedom and things available at the office. I would most definitely never get any work done." — Kenneth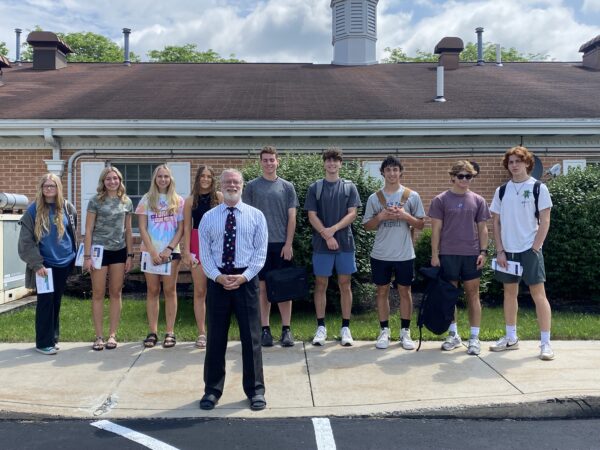 In Central PA, cohorts expanded on their classroom workshop on social-emotional learning with several site visits. The Somerset/Cambria cohort's first trip was to Somerset Developmental and Behavioral Health Services for a tour and conversation on mental health services and careers. Learners also visited Somerset UPMC Hospital and heard from various people in the medical industry and toured spaces like the OR, inpatient mental health, the ER, telemetry, and behavioral health. They checked out the wellness center and talked about how physical health is related to mental health and wrapped up the day with a fun meditation and stretch with one of the nurses, Libby.
The Bedford/Blair cohort visited Bedford Behavioral Health in the morning, where they learned about the organization's mental and behavioral health services — including crisis intervention, case management, and nursing. Afterward, learners visited Nulton Diagnostics and talked to leadership about careers in the mental health field and the education needed for those opportunities. They also picked up some stress balls and fidget items and got to try out the organization's stress relief equipment.
"Throughout each section, there was obvious care and compassion in all the staff that demonstrated the connection and devotion to the patients at the hospital." — Megan
Virtual Days
The technology conversation continued during learners' virtual days as they read and discussed an article about How ChatGPT and similar AI will disrupt education. They also reflected on their recent field trips, explored more potential career pathways, and responded to a new Readiness Pathways prompt. Last week, the question was "who am I?" This week, it was "who do I want to become?"
Next Week
The team is getting ready for week three! Pittsburgh will dive into financial literacy, and Central PA will explore entrepreneurship.
Don't forget to follow us on Instagram for the latest: @RIatPennState
Read other Summer Program blog posts.
Pittsburgh Photo Gallery
Central PA Photo Gallery