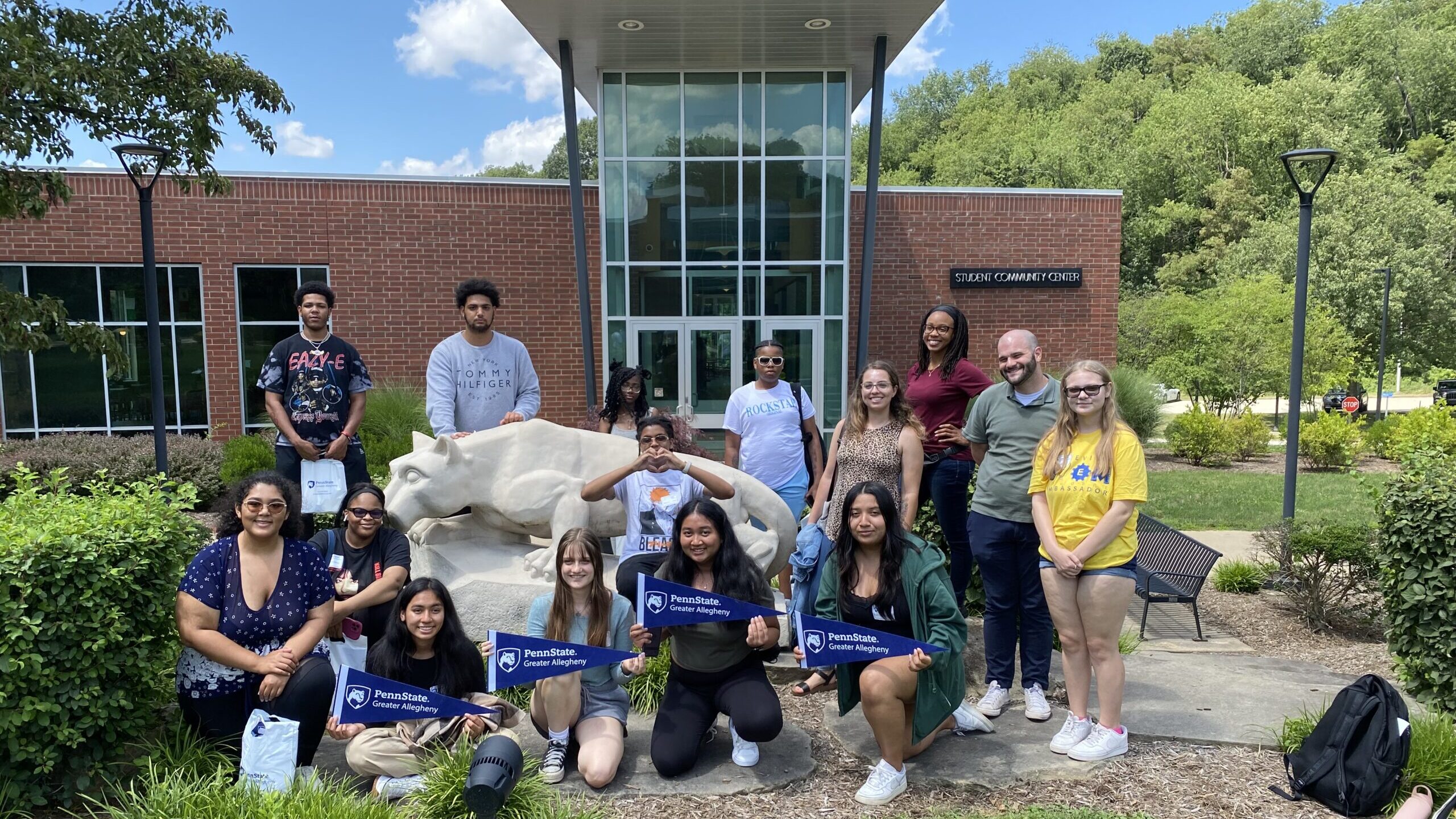 How does SpongeBob SquarePants make sure he's investing in businesses without getting fooled by greenwashing? That's one fictional situation a group of Summer Program learners created this week to help explain a lesson in sustainable investing. This exercise was part of a workshop in Pittsburgh focusing on financial literacy, the theme for week three. In Central PA, the theme was entrepreneurship, which helped to spark learners' critical thinking and innovation.
On-Site Activities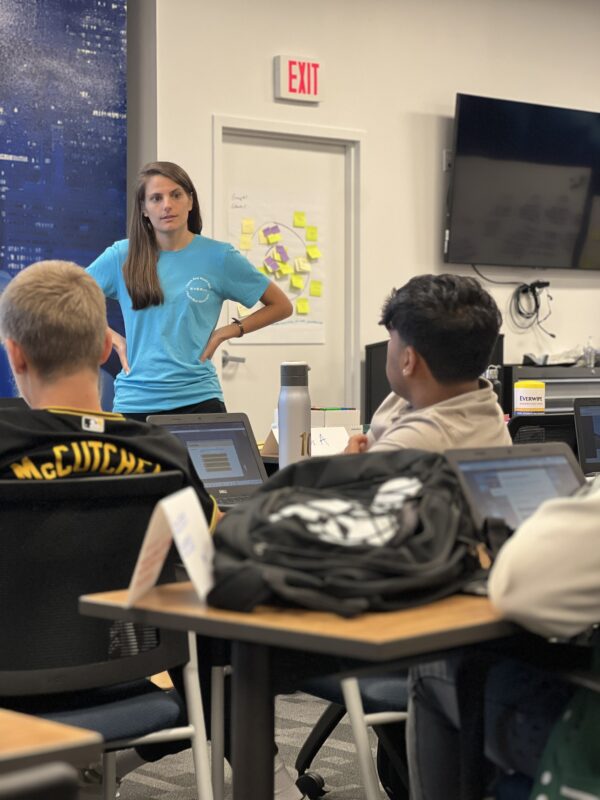 Week three kicked off in the classroom with a popular topic! Keynote speaker Justin Vorbach, director of enrollment at Penn State Beaver, led a discussion with learners on college admissions and financial aid. He talked about the process of applying to college, scholarships, things they can do in high school to prepare, and information about available resources. Learners also asked about college schedules, dorm life, letters of recommendation, loans, and more.
In the afternoon, Carly and Kristin from Everfi joined Pittsburgh learners for a financial literacy workshop. They started the session with some conversation starters like "would you rather eat at a fast-food chain twice a week or a fancy restaurant once a month?" and "would you rather have $50,000 a year for the rest of your life, or $1 million right now?" — leading to some lively discussions and debate among learners. They also worked through lessons from Everfi's financial literacy primer program for high school students, which includes topics like income and employment, banking basics, budgeting, consumer skills, financing higher education, and more. Learners then got into groups to present fictional scenarios for characters (like SpongeBob, Walter White, Jay-Z, and even our very own instructor Miss Jasmine!) on lessons like sustainable investing, marketplaces, and credit fundamentals. This session has been a learner favorite activity every year!
In Central PA, learners sharpened their entrepreneurship skills as Donna Bon, executive director of the Sheetz Center for Entrepreneurial Excellence, joined them in the classroom and presented on the importance of an entrepreneurial mindset. She also gave them information on the Sheetz Fellows Program, a freshman entrepreneur class at Penn State Altoona, which provides an "education for leadership." In the afternoon, Dr. Justin Aglio led an Introduction to Entrepreneurship workshop. Learners watched a special video message from entrepreneur and owner of the Dallas Mavericks, Mark Cuban, participated in an elevator-speech competition, and played a "Family Feud" game to name three tips on how to start a successful business. 
Learners in both locations also got a look into the media and communications industry, as several professionals from Oyster Creative Co. came to help with the Community Design Challenge. The group used their client-driven "Deep Dive Session" to ask questions about the learners' project goals, some of which included No Poverty, Zero Hunger, Peace and Justice, Good Health and Well-Being, and Quality Education. It generated lots of conversation about their vision for the goal, common misconceptions, stakeholders, and what success looks like.
"A common misconception is that people think hunger is just a global thing, but there are people going hungry in our own backyards." — Sam  
"Peace would be the ultimate goal. There's so much we could accomplish in the world if we could all just get on the same page." — Avery
Service Project
Learners got to bring some of their global goals from the classroom to life this week in Pittsburgh. In lieu of a virtual day, each cohort of learners worked together for a service activity in Sunny's Garden in Manchester. The garden, which was just created a few months ago in a vacant lot on the corner of North Franklin and Sedgwick Streets, will serve the community with a beautiful space and fresh produce. Learners came ready to help, moving equipment, building functional rock walls, painting décor, establishing a new butterfly habitat, and more. Sandi Welch, founder of Sunny's Garden, also talked to learners about their goals and dreams, encouraging them to make positive change in their communities.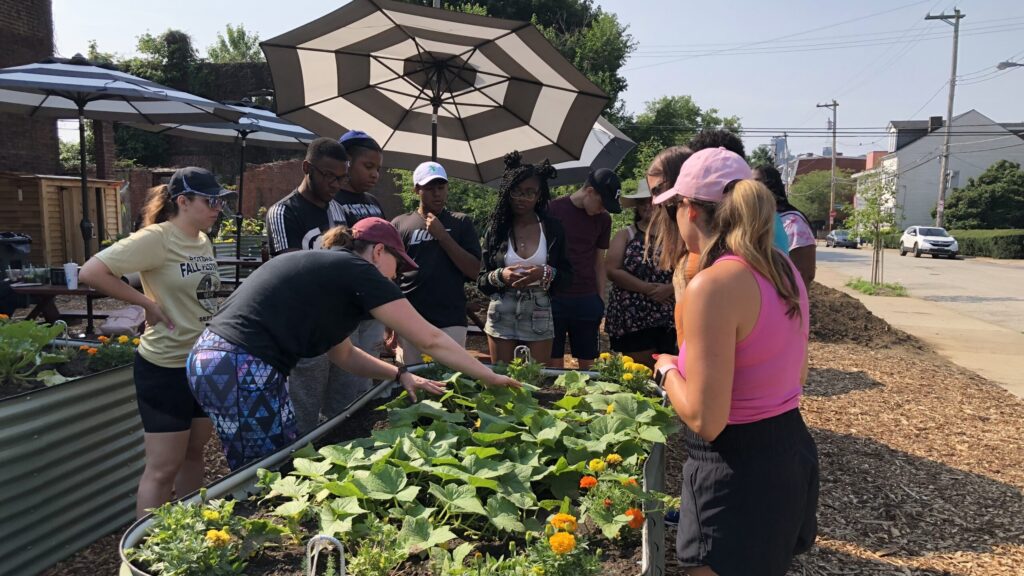 "It made me ask my mom about planting a garden in my backyard, and she said yeah! So now I might be starting a garden or at least planting something." — Chass
It was very inspiring to see so many individuals so confident in themselves and their careers, even if it wasn't something that they intended for. It just goes to show that even if you don't know what path you're on, you will find the right way that is the most impactful to you." — Christiana
Also during the service day, learners visited with the Manchester Youth Development Center (MYDC) team at the MuseumLab for a workshop on mentoring. They talked about communication styles and how to be a good mentor to younger students.
"The learners worked hard in the garden all morning and then had some really great conversations with the team at MYDC. They talked about how we can adjust our communication styles to make people feel respected and valued and to strengthen our relationships." — Emma Hance, Readiness Institute Program Manager
Off-Site Visits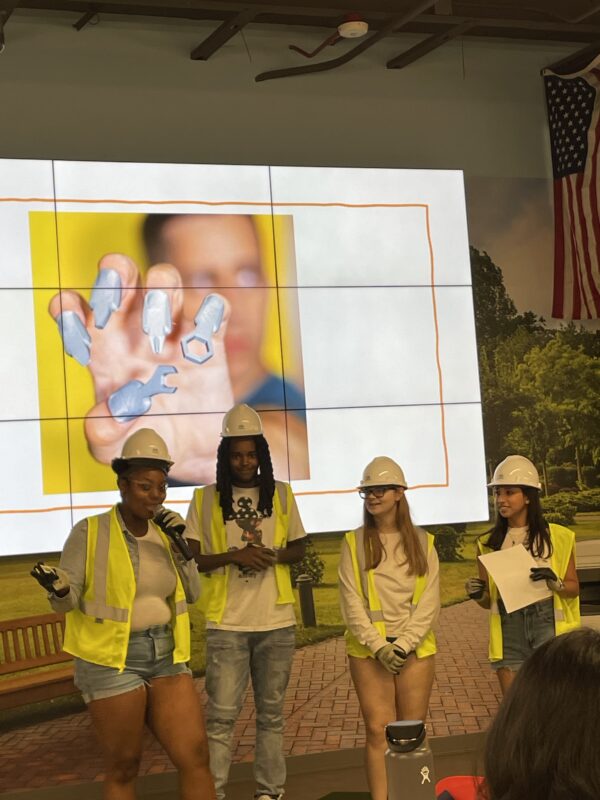 For the financial literacy field trips in Pittsburgh, learners visited Northwest Bank in Bellevue and Junior Achievement in South Fayette. At Northwest Bank, the groups heard from leaders about banking career pathways and learned about some important topics like retirement funds, loans, savings, and more. At Junior Achievement, the groups toured the JA Biztown — a simulated town that serves as an experiential learning lab for young students. It includes restaurants, stores, banks, and more to show kids and youth how to do real-life activities, such as apply for a job, use a cash register, vote for mayor, and more.
"I had a great time at Northwest Bank! We learned about personal and business banking. It made me consider reaching out to Northwest when I open my first business." — Anita
"Junior Achievement was a way to innovate our career paths in a creative way and then inspired us to always put our minds to use." — Tekeyah
On Thursday, all 45 learners had an opportunity to travel to their choice of a local Penn State campus. They heard from representatives about things like admissions, majors, and financial aid, and got to tour buildings, classrooms, and student living with the Lion Ambassadors. They also had engaging discussions at each campus including:
Penn State Beaver: Learners were introduced to the Experiential Digital Global Engagement (EDGE) program, which connects Penn State Beaver with classes around the world — helping them think about global engagement and learning beyond physical boundaries.
Penn State Greater Allegheny: Learners engaged in conversations about the perception of the crime crisis and recent legislative decisions that have affected gun sales and safety.
Penn State New Kensington: Learners toured the Digital Foundry, an initiative of Penn State New Kensington, which partners with manufacturing companies, educators, and the workforce to drive economic growth and competitiveness using digital technologies and data-drive decision making.
Heading over to the Central PA cohorts, learners there focused on entrepreneurship during their on-site workshops and off-site field trips. In the Bedford/Blair group, they visited Sheetz Distribution Center and learned how the company started and grew into what it is today. They also got to tour the warehouse, fridge, and supply room — and they got a special Sheetz taco bar for lunch!
Learners in the Bedford/Blair group then heard from Timothy Kretchman, founder of Action Driven Education — an organization that helps educators create individualized learning experiences in special education. Tim talked to the learners about what it means to be an entrepreneur and how to have an entrepreneurial mindset.
"The presentation in the afternoon really opened my eyes to entrepreneurship. All you really need is a good idea. If you can think of a creative solution to a problem, you have potential for immense profit. Having an entrepreneurial mindset means looking for what needs a solution." — Deniz  
In the Cambria/Somerset group, they gathered at Richland High School to meet with Seth Mason, founder of The Esport Company in Johnstown, in the morning. Seth talked about how he started his entrepreneur journey from a sock business in high school to a highly successful career in esports. Learners were able to see what it takes to start a business, the failures, challenges, and many rewards. They were also able to use the virtual reality and gaming equipment in the high school's esports room.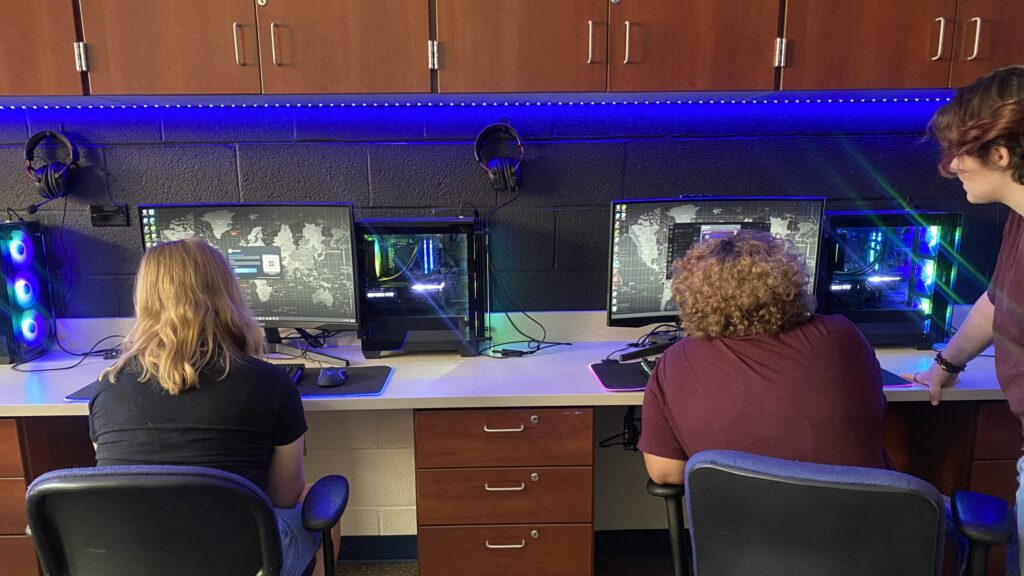 In the afternoon, they visited the Johnstown Entrepreneur Center and toured downtown Johnstown to check out the growing businesses there. They ate at Roots Kitchen, a health foods restaurant that started from a hot dog stand, where the owners explained the failures they have faced, challenges they have overcome, and how they grew their business in a short amount of time. Along the tour, learners were able to hear and see how Johnstown businesses, such as Balance, Journey, Classic Elements, Made, and the theater started out and are growing into successful businesses. The group was impressed with how the area has grown and improved and enjoyed meeting and hearing from so many entrepreneurs in the local area.
"Every place that we saw on our visit seemed to truly want to see Johnstown become a great place to live and shop, showing how each business owner cared for what they did and the city around them." — Megan
For the full group Central PA trip, learners got to see the full life-cycle of entrepreneurship at InventionLand — a fully immersive workplace and incubator. They toured the building and got to see different creative career pathways up close.
Next Week
We're halfway through the 2023 Summer Program! In week four, Pittsburgh and Central PA will switch themes — with Pittsburgh exploring entrepreneurship and Central PA focusing on financial literacy.
Don't forget to follow us on Instagram for the latest: @RIatPennState
Read other Summer Program blog posts.
Pittsburgh Photo Gallery
Central PA Photo Gallery