Last month, several education, industry, and community professionals gathered in Pittsburgh for a day of collaboration and action at the second annual Readiness Institute Summit. The Summit was held at the Energy Innovation Center, home of the Readiness Institute at Penn State, and focused on learner success, relying on the expertise and experience of the more than 25 attendees.
"If you look around the room, it's like the Avengers in here. It's a collection of all the superstars in the area," said Dr. Justin Aglio, executive director of the Readiness Institute, during his opening remarks.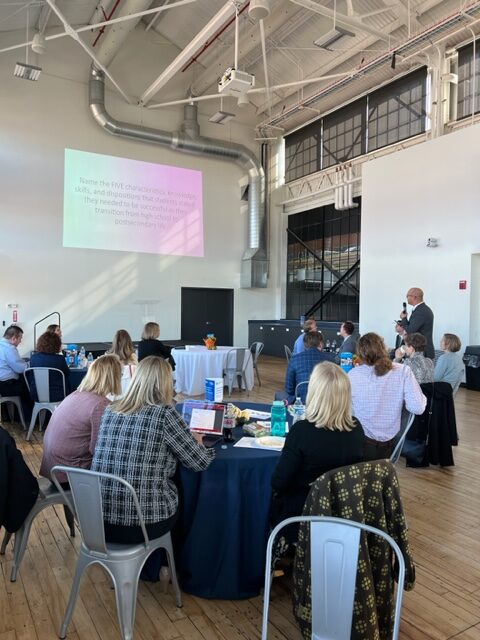 Dr. Stan Thompson, senior program director of education at The Heinz Endowments, also provided some direction and insight at the start of the program. He talked about the needs and goals of the education system in Pittsburgh and across Pennsylvania and emphasized the importance of working together and sharing expertise to make an incredible impact on the future of learning and learners in the region.
"This isn't meant to be a stand-alone event," said Thompson. "Only through this collaboration and ongoing dialogue can we develop the powerful thinking and systems of learning that we know are necessary in this nation."
The rest of the Summit was led by Devin Vodicka and Katie Martin, chief executive officer and chief impact officer of Learner-Centered Collaborative — a nonprofit working with educators across the country to identify pressing challenges and set ambitious goals using a learner-centered approach. The team began by putting things in perspective. They reported on data to highlight the student experience and engagement, satisfaction with K–12 education in the United States, and rethinking college and career readiness in a hybrid world.
"It's not about getting back to 'normal,'" said Martin. "It's about creating new systems and finding out what students have learned through the pandemic — resiliency, navigating the world, doing things differently. Let's look at those in an asset-based approach rather than a deficit focus."
During the Summit, attendees worked together on activities and discussions to expand their views of learner success. They explored what it means to have a school-centered approach, prioritizing sort and rank, standardization, isolated content, and completion of tasks versus a learner-centered approach, focusing on inclusivity and equity, personalization, authentic application and competency-based evaluation.
Vodicka and Martin presented many examples for educators and parents to make this shift to learner-focused education. They suggested replacing the question "how did you do on your test?" with "what problems did you solve today?" and instead of "what did you learn today?" ask "what did you do better than you did yesterday?" Attendees then had the opportunity to begin creating an action plan for the next 30, 60, and 90 days focusing on coherence, culture, and connectedness. They explored the critical skills and knowledge students need in order to develop, the learning experiences to achieve those outcomes, and the conditions that can support the process.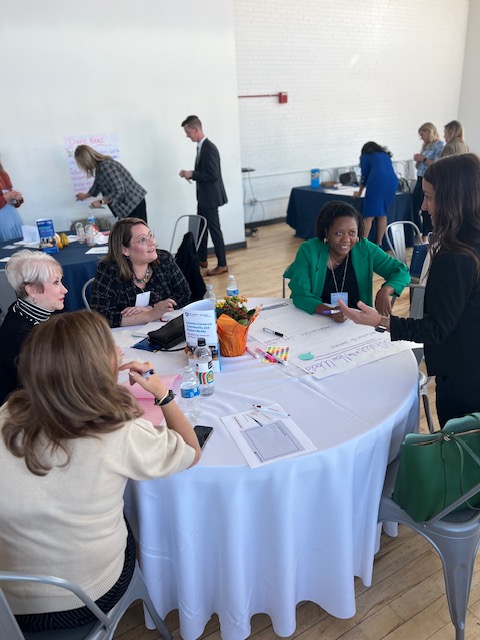 Guest speaker Lance Lindauer, co-founder and executive director at the Partnership to Advance Responsible Technology (PART), also talked to the group about the 2022 PART report and responsible technology. He highlighted how emerging technology can be an asset to students and educators and to not only take a learner-centered approach, but to also incorporate a Pittsburgh-centered approach to education.  
"It's beholden on each of us to step up and collaborate," said Lindauer. "Every year, these challenges get more complex to help school systems and students. We can't assume that external market forces are going to solve these challenges."
The Readiness Institute also took the time during the event to recognize two important people doing the work to solve some of the complex challenges many are facing in education. Sam Moore, executive director at the Moonshot Museum, was presented with the 2022 Stanley Thompson Future Ready Leader of the Year Award, and Angela Mike, executive director of the Career and Technical Education (CTE) division of the Pittsburgh Public School District, was presented with the 2022 Tracey DeBlase Huston Community Leader of the Year Award. They have both demonstrated their commitment to learner success in Pittsburgh and have been valued partners with the Readiness Institute since its inception.
Many who attended the event commented on its impact and the knowledge they will take back to their school districts and workplaces. We look forward to continuing the conversation on learner success throughout the year and seeing more superheroes at next year's summit!