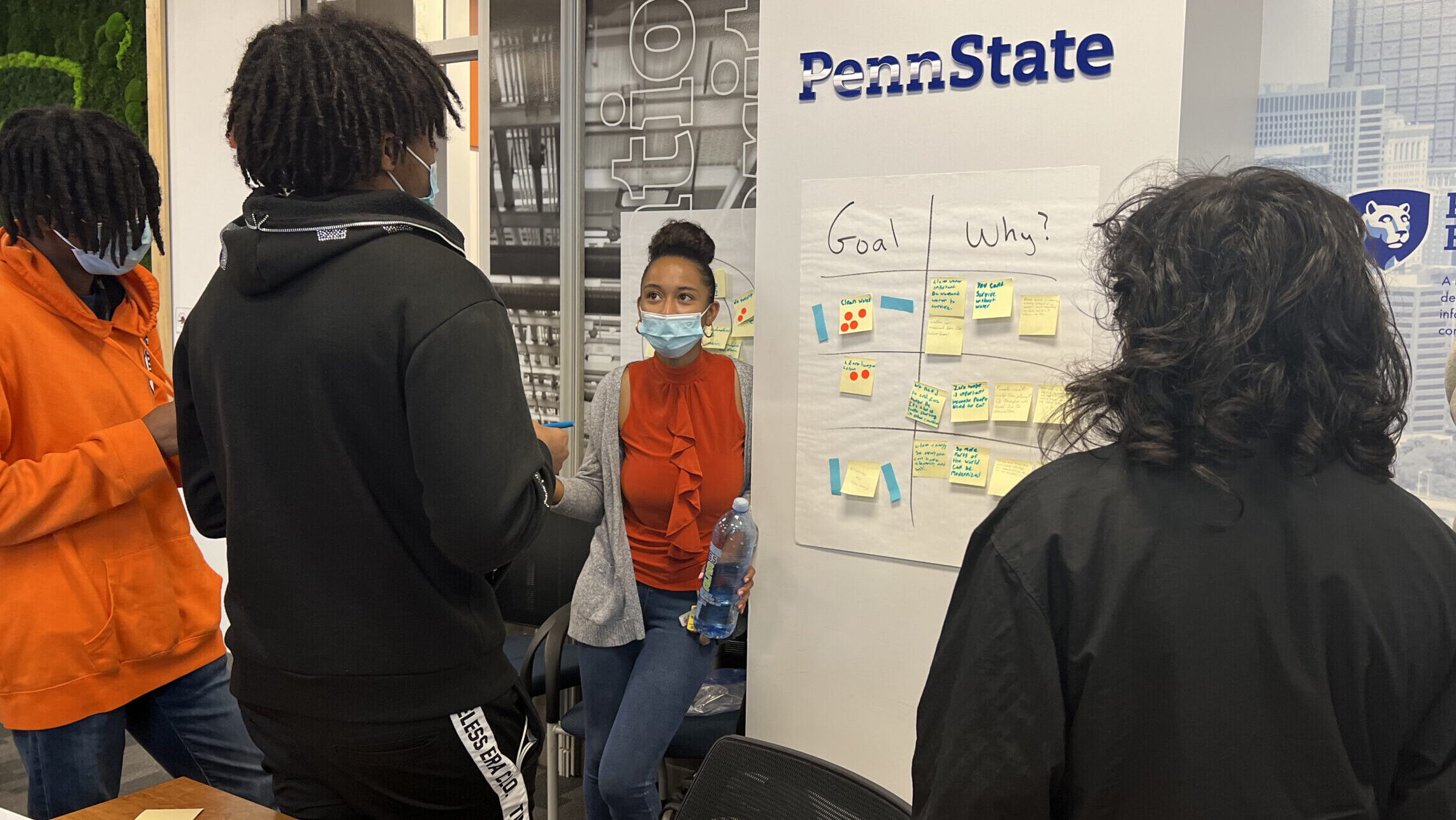 From making change in the community to making cars in the classroom, learners explored new pathways during cycle two of the Readiness Institute Summer Program. The week was centered around the theme of "Digital Fluency" and focused on how to gather information, communicate ideas, and make choices (and positive change) in a digital and connected world.
On-site Activities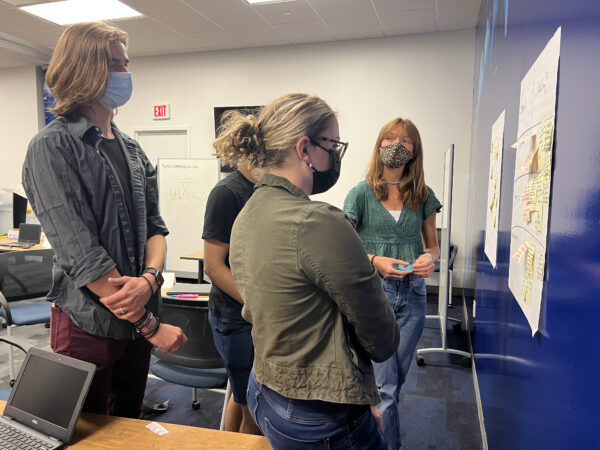 At the Penn State Center Pittsburgh classroom, on-site cohorts explored human-centered design, a problem solving technique that will guide them on a summer-long project focused on saving the planet. Guided by an article written by Tom Vander Ark titled "24 Goals to Save the Planet (+1 in Case We Don't)" learners discussed goals such no poverty, gender equality, and climate action.
Then they separated into groups to identify the goals they believe are the most important and on which they could have the biggest impact. Throughout the summer, students will work in these groups to further explore their goal of choice, research its challenges and progress in Pittsburgh, and propose solutions for their own communities.
"It is possible to make positive change in your community," said Emma Hance, program manager and strategic planning specialist at the Readiness Institute. "It doesn't have to be big. There are small actions you can take now that can ripple out and make a real impact."
Visits from the week's guest speakers exposed learners to new education and career paths at some exciting organizations. Presenters from the Google Pittsburgh office joined the classroom virtually to chat about their professional experiences and give a virtual tour, including information on the shopping operations team which works from the local office. Googlers then chatted with learners about their interests and future career choices.
This experience gave students a unique and advanced view of the technology industry, which is more important than ever as Pittsburgh continues to become a growing hub for technology—with Google at the forefront. The Google team also highlighted potential internships, job opportunities, and ways for learners to get connected with the company throughout college and after graduation.
The team at Community College of Allegheny County, including Johnny Marcolini (director of early college and dual enrollment) and Dr. Kristofer Stubbs (executive director of enrollment services), also visited with learners to discuss some of CCAC's programs and opportunities, as well as the benefits of participating in dual enrollment while in high school to earn early credits and prepare for college. They also emphasized the importance of having a backup plan (even if you may think you know what you want to do after high school) and branding yourself to stand out to potential jobs and schools.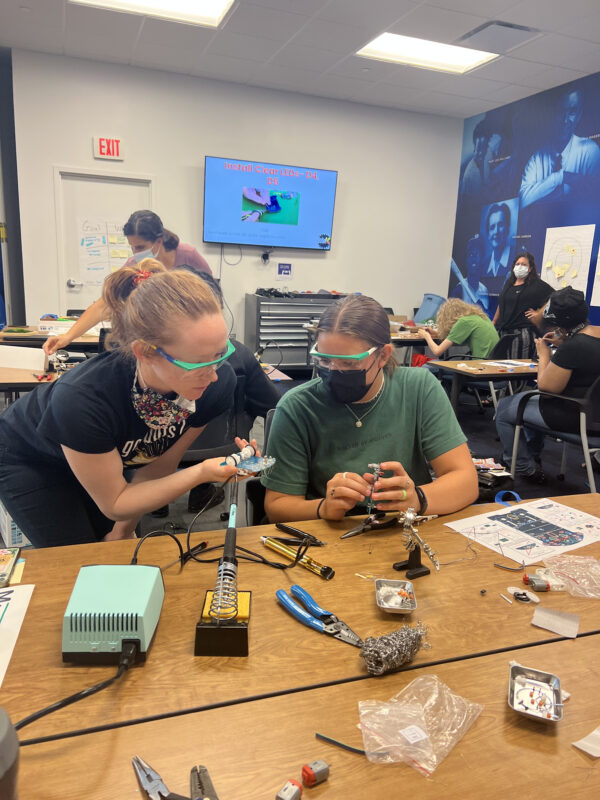 This week, learners also received hands-on manufacturing experience with BotsIQ—an educational program that prepares students for careers in the manufacturing and STEM fields. Jo Anna, Michel, and Oula from BotsIQ spoke to students about the organization and the future of manufacturing, electronics, and robotics in Pittsburgh. The group put on their safety goggles and got to work assembling their own autonomous mini vehicles guided by light and color contrast. They used a soldering iron kit to connect resistors and other pieces to a printed circuit board (PCB) to create the vehicles, and tested them on a track of black electrical tape. A few students have used this type of tool before, but many have never picked up a soldering iron or even considered this as a career path or hobby.
"My dad taught me how to solder but I've never soldered on a board before, so I thought that was really interesting," said learner Maddie W. "It's very meticulous and takes a lot of concentration but it's a lot of fun. It definitely opened my eyes to the things I'm willing to do. I have a one-track mind to pursue mechanical engineering, but now I'm thinking maybe I could do this as well."
Off-site Visits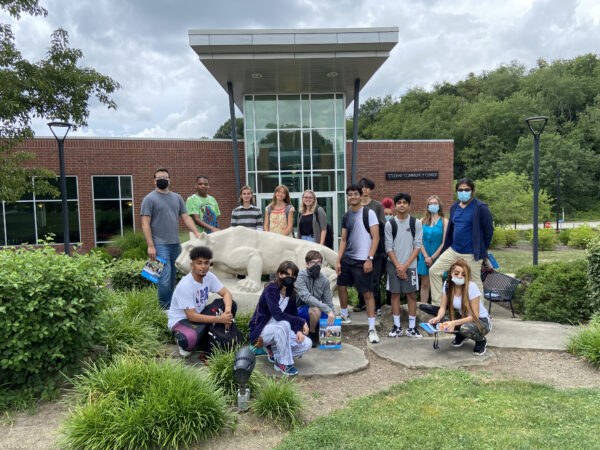 The cohorts visited the Penn State Greater Allegheny campus and New Century Careers this week, touring the facilities to better understand options after graduation. At Penn State Greater Allegheny, learners visited classrooms, residence halls, and common areas, and then heard about the opportunities offered at commonwealth campus, including the 2+2 program (2 years at one campus + 2 years at another) and the SECURE lab (a science lab for non-science majors).
While on campus, the group also learned about the Crossing Bridges program, an initiative from Penn State Greater Allegheny to address issues in local school districts. Learners separated into groups to discuss challenges that high school students are currently facing and changes they want to see in their schools, including gender-neutral bathrooms, sex education classes, more help for teen parents, mental health support, and community involvement.
"The [Crossing Bridges] activity sparked a lot of ideas and allowed for people to have a voice in a topic concerning our generation," said learner Ethan A. "It gave us an opportunity to address problems within our schools and the solutions that we see possible."
At New Century Careers, an organization that offers technical training programs, learners heard about opportunities to train in manufacturing and enter the workforce immediately after graduation. They toured the classroom and robotic machine areas to observe manual and automated tasks and projects. It was an eye-opening experience for many who had not considered this line of work or the opportunity to train and be on the job so quickly.
Virtual Learning
During the virtual rotation, learners joined a group Zoom session to reflect on the week's activities, discuss their personal journeys, and learn about future readiness pathways. As an independent reflection each week, learners are asked to respond to a new prompt, including last week's question "Who am I?" and this week's question "Who do I want to become?" These responses guide students in learning more about themselves and their communities and could serve as a foundation for a college essay or career application.
Visit from Pennsylvania Department of Education
One of the groups also got a special on-site visit from Eric Hagarty, the acting secretary of education for Pennsylvania. Hagarty visited the Penn State Center Pittsburgh on Thursday, July 7, to speak to learners and observe the afternoon's activities with BotsIQ.
Preview for next week: Future Career Pathways
Week Two Photos