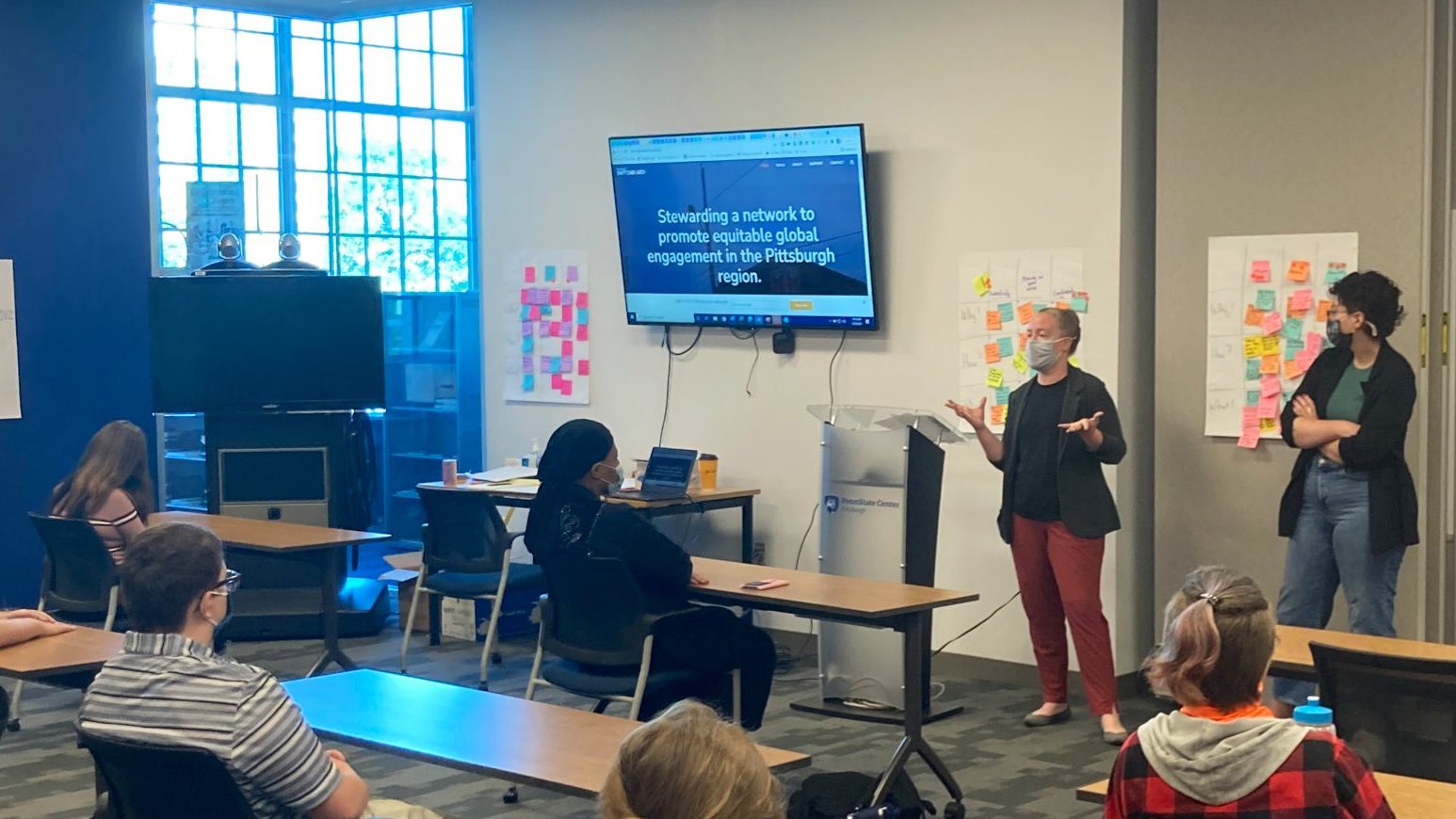 The second week of the Readiness Institute Summer Program was out of this world — literally!
The week was filled with education, community, and industry mentors sharing personal and professional pathways and self-experiences. Sam Moore, executive director of the Moonshot Museum, led students on a tour of the existing Astrobotic facility and spoke to learners about the expansions and additions that are being made to the space, including the addition of the Moonshot Museum. Students also met with Astrobotic's Jeff Campbell, software engineer, Jocelyn Mackay, payload manager, and Alivia Chapla, senior marketing and communications specialist, who talked to the students about their educational and professional backgrounds that led them to their current positions.
Nikole Sheaffer, senior STEM director at the Carnegie Science Center, shared her pathway to success and encouraged learners to follow their hearts and dreams, while stressing the importance of seeking out mentors and taking risks. Afterwards, participants explored the different exhibits at the science center, which helped to reignite an interest in science and STEM.
The students also toured CCAC and did a college "simulation," where they worked through different college-related decisions that they may encounter over the course of their college career, and the financial implications of these decisions. The simulation also included post-graduate salaries and job prospects, which led to a discussion on student loan debt.
Community leaders Dana Ludgate and Sara Noel from The Global Switchboard, an organization promoting equitable global engagement in the Pittsburgh region, spoke about their education pathways and shared their experiences with study abroad, AmeriCorps, as well as the mission and work of The Global Switchboard, which led to discussions on globalization, international relations, and what it means to be a global citizen.
Emotional wellness and social and emotional learning were also a main focal point of the week with Linsey Covert, founder and CEO of TEAMology, who led hands-on essential skill workshops, such as the "Pyramid Challenge," where students worked in teams to build a cup pyramid using only a rubber band and strings. Learners debriefed at the end and discussed how communication and reading social cues and body language are important pieces of successful teamwork. The students also built houses out of popsicles sticks to create their social and emotional learning (SEL) neighborhood. Each popsicle stick had a hand-written SEL skill that the students identified as being important, with the SEL skills being built into the very foundation of the neighborhood.
We also kicked off our design thinking challenge that will span the rest of the summer. After reading an article on the 25 most important challenges facing the world, students identified the most important issues in their lives, including quality of education, clean water, understanding the brain, and more, through human-centered design learning processes. Then, they gave presentations to their peers on the importance of these topics. Over the next several weeks, the students will narrow the focus of these issues and create stakeholder maps and additional ways to present potential solutions to these issues.
Finally, as always, learners completed reflections on an array of topics, such as growth vs. fixed mindsets, healthy habits, discovering "who" they want to become rather than "what" they want to become, and activities to encourage their thinking of who they are, where they want to go, and how to get there.
View photos from week two of the Summer Program.
We can't wait for week three!