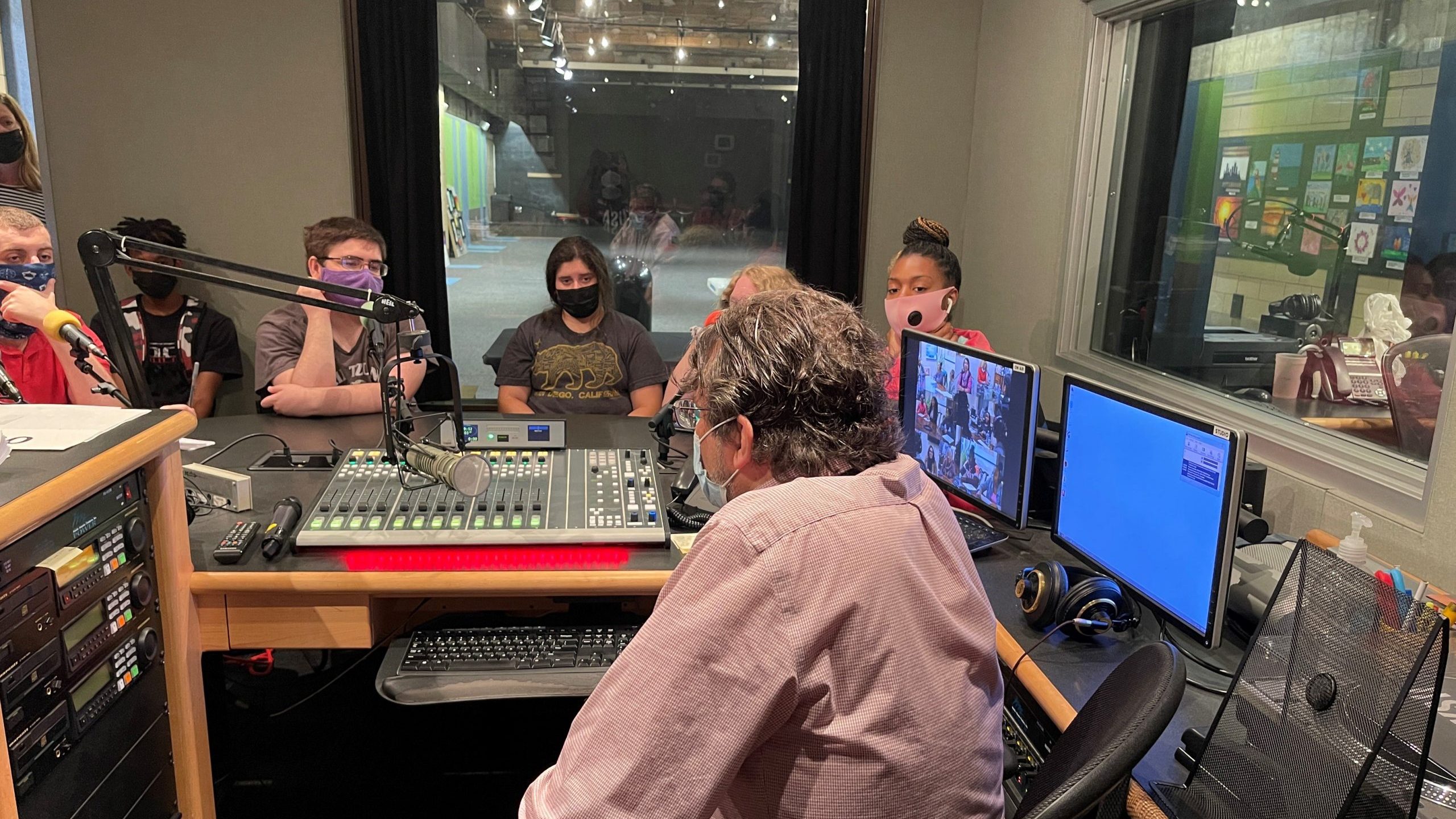 During the third week of the Readiness Institute Summer Program, learners experienced firsthand how digital media can be used to empower people to act as agents of change for good. 
Lance Lindauer, executive director of PART (Partnership to Advance Responsible Technology), shared how PART engages key, multi-sector stakeholders to ensure the responsible research, development, deployment, and governance of emerging and data-driven technologies, notably artificial intelligence. Learners also heard the story of how Lance started his personal and professional pathway and how it led to PART. This in-person experience gave participants invaluable insight into how they can take steps to create their own journeys in Pittsburgh, Pennsylvania, an epicenter of emerging technology.
Gina Masciola, managing director of WQED Education, also shared her expertise and gave a live virtual tour of WQED, a Public Broadcasting Service (PBS) member television station. Gina provided insight into her role at WQED and explained how WQED and PBS create and share public media to educate, entertain, and inspire. The live tour included a unique behind-the-scenes experience, where learners were introduced to directors, producers, staff members, and TV personality Rick Sebak.  
Learners also had the opportunity to create their own podcast at SLB (Saturday Light Brigade) Radio. Team members at SLB, located at the Children's Museum of Pittsburgh, led the participants through a workshop at their radio station studio focused on empowering youth voices. Learners were introduced to the technology of professional podcasting and were coached on covering relevant topics in society. They also created their own mock podcast using professional equipment and coaching from the SLB Radio team, led by founder/president Larry Berger.
It was very interesting and made us really use our minds. I'm not one to use my voice a lot, so it was kinda cool to get out of my comfort zone.
Partnering with Jennifer Ehehalt at Common Sense Education, Readiness Institute Summer Program instructors created and taught a lesson focused on how identity, confirmation bias, and filter bubbles shape our digital lives. Learners explored their own identities, from personal identities like hobbies, skills, and interests to social identities like age, race, gender, etc. They also dug into their own filter bubbles and confirmation bias and learned why it is important to try to understand all sides of an issue even when you may not agree with them. Learners discovered that this approach leads to a more well-rounded and developed opinion. 
New and emerging technologies were also at the forefront as learners toured Robert Morris University's campus and their new esports arena, the first collegiate-level gaming program in southwestern Pennsylvania, led by Armand Buzzelli and Richard Zapp. Participants learned how esports is reshaping the sports industry and how the esports program prepares students for a variety of professional pathways, including media arts, sport management, and software engineering.
Learners explored goal-setting through an article by Amber Osuba of Everfi and discussions led by the Readiness Institute at Penn State about growth vs. fixed mindsets. They also completed career interest inventories and had the opportunity to learn Google Applied Digital Skills.  
Overall, it was great to see the 45 Summer Program learners becoming digital agents for change and developing the skills, attitudes, and values needed to design and lead in matters personal, professional, and public to make the world a better place.   
Take a look at the photos from this week. We're looking forward to week 4!