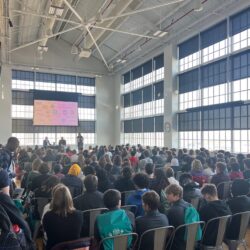 "That's so cool!" "Can I try it next?" "How do I get an internship with you?" These and similar sentiments were overheard all day long at the 2023 STEM Summit, which gathered more than 300 students and educators from school districts across Southwestern Pennsylvania.
Students in grades 6 to 12 and local college students were invited to spend the day exploring a diverse array of STEM–related careers through speakers, workshops, and site visits. The event was hosted by the Pittsburgh Technology Council in collaboration with Fortyx80 and the Readiness Institute at Penn State and took place on April 19 at the Energy Innovation Center near downtown Pittsburgh as well as several sites around the city.
The day kicked off at the Energy Innovation Center (home of the Readiness Institute) with keynote speaker Dr. Kevin Snider, chancellor of Penn State New Kensington. Snider talked to the students about Industry 4.0 and disruptive technology and how students can be good citizens in the digital age.
"Every one of the 275 majors across Penn State will be affected by Industry 4.0," said Snider during his remarks. "Think about what you can do with these technologies. You can have a tremendous impact on the human condition."
Snider then introduced Kelvin King, chairman and CEO of Alpha Drones USA, who spoke to the group of students about how his company uses drone technology to improve safety, innovation, education, and workforce development. During his presentation, King also announced they would be licensing more than 100 new pilots in the next year. He then encouraged students to take out their phones and send a text to the Alpha Drones dispatcher to get more information on a paid internship with the company — which was met with much excitement from students.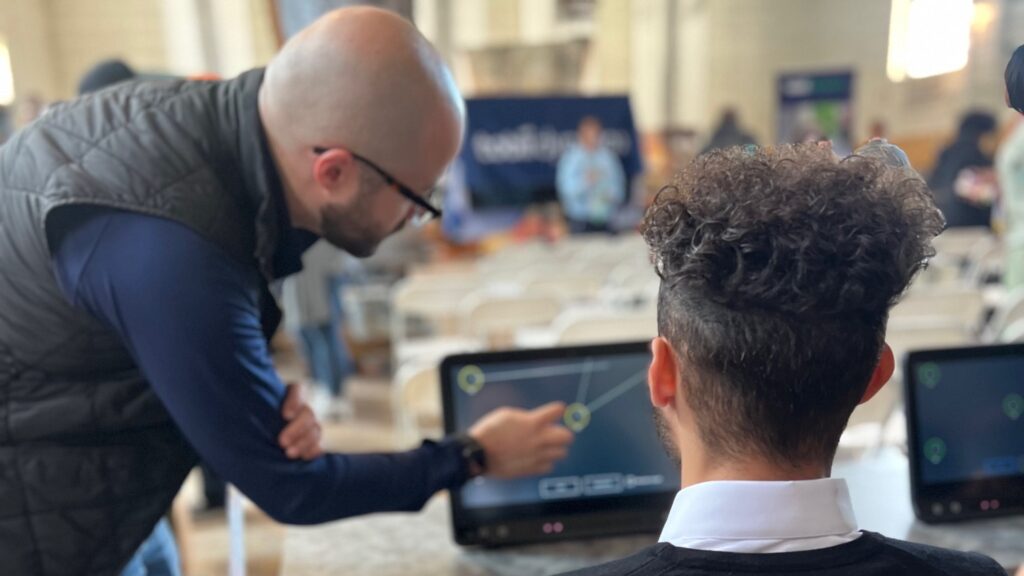 For the second part of the morning, students separated into groups and had an opportunity to visit several exhibitors and breakout sessions to further discover what Industry 4.0 looks like in the future workforce. Companies in breakout sessions included: AYA Instruments, Velo.AI, POGOH, Aurora, Pittsburgh Technical College, CannonDesign, Tobii Dynavox, U.S. Office of Surface Mining Reclamation and Enforcement, the ARM Institute, and Alpha Drones USA.
After lunch, students boarded buses and traveled to several off-site locations to get a close-up look at STEM careers in the region. Site visits included: West Penn STAR Center, AlphaLab Health, Industrial Scientific, BNY Mellon, Microsoft, Gecko Robotics, Optimus Technologies, Ansys, EKTO VR, CGI, and Google.
"You could feel the energy from the students in these rooms," said Justin Aglio, associate vice president of Penn State Outreach and executive director of the Readiness Institute. "This is such an exciting time for students to be learning about and using new technologies like AI, augmented reality, robotics, self-driving vehicles, drones, and more. We are so grateful to collaborate with Pittsburgh Technology Council and Fortyx80 to make these connections for students."
During many of the presentations and workshops, company leaders recognized that students are already using these new and emerging technologies and will soon become the experts in Industry 4.0. This event gave students an opportunity to engage with the workforce and understand the ways they can make an impact on the world around them now and in the future.