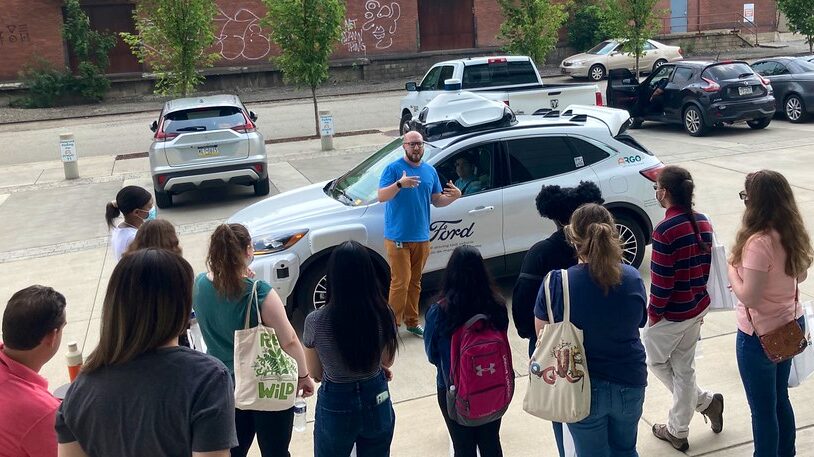 This past week, our Summer Program learners experienced technology of the future, toured multiple organizations, and served the local community while engaging in mindful activities in nearby parks.
Learners toured Argo AI and heard about different career pathways from team members. The company's engineers also did a live demonstration with a self-driving vehicle and explained the technology powering the vehicle.
Staff from Advanced Robotics for Manufacturing presented an in-person workshop with hands-on activities, where they talked to learners about the skills needed to start or advance a career in robotics.
Dr. Kevin J.G. Snider, chancellor of Penn State New Kensington, led a tour of the campus and its Corner Launchbox to show how Penn State is partnering with local and regional businesses and industry leaders, government officials, and school districts to increase awareness of the need for an Industry 4.0 mindset.
Throughout the week, learners participated in the Readiness Institute at Penn State's Day of Service led by Readiness Institute Program Manager Emma Hance in collaboration with Chef Claudy Pierre, "chef" executive officer of the Empowerment, Awareness, & Training (E.A.T.) Initiative, Inc., and Naomi Ritter, founder and CEO of The Finesse Institute and former Penn State CITY program manager.
At Sunny's Community Garden, Sunny talked to the learners about her reasoning for starting the garden, gave them a tour of the different beds, and taught them how to identify certain plants. The learners then completed several tasks in the garden, such as weeding; edging; mulching; cleaning and rebuilding the pond and mini waterfall; and redoing the stone pathway that connects the garden and the greenspace.
The learners also helped prep for the garden's Krafts with Kids event and painted all the stones that make up the stone walkway between the growing and gathering areas. They also made example projects for upcoming Krafts with Kids sessions and brainstormed potential ideas for expanding and improving the garden.
Hance then led a conversation with the learners about the idea of service-learning and discussed how they can take the lessons that they learned during the Day of Service, and throughout the Summer Program, to create change in their own communities. They also shared ideas for future service-learning projects that they would like to do, including a trip back to Sunny's Community Garden on Earth Day to help with planting.
"One thing that really stuck out to me was that, even though the learners were exhausted, they said that this felt like a different kind of exhaustion because they knew that they had accomplished something," Hance said.
It wasn't just an external Day of Service, it was an internal Day of Service for learners as well, with yoga at August Wilson Park, journaling at Point State Park, and painting posters at the Energy Innovation Center. The journaling and painting sessions focused on the question, what does service mean to you? We hope to hang the posters up around the Penn State Center Pittsburgh to add even more color to our space.
View photos from the past week and from our Day of Service.